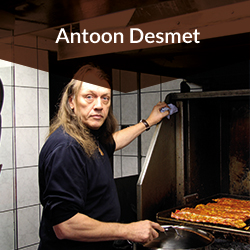 Brasserie De Zilveren Lepel ('The Silver Spoon') was founded in 1987 by Antoon Desmet. As a patron and chef at the charcoal grill he has been making the best grill specialties for over 25 years. Ribs, pork tenderloin, pork clubsteak, chicken, ... All grilled on charcoal. This won him a place in the "Guinness Book of Records".
In addition, De Zilveren Lepel also offers other meat and fish dishes. Suggestions are, among other things, the frog legs, king prawns, fish stew, ... The wines on our extensive wine list can be perfectly combined with all our dishes. You can also enjoy of a hearty snack with a delicious local beer.
Because of the rural character of the restaurant you can enjoy the convivial OR sociable atmosphere. De Zilveren Lepel is also located at junctions of cycling routes. The restaurant has a terrace, a spacious parking and is wheelchair friendly. There is a separate play area, visible from the restaurant. Please click here for photos.
De Zilveren Lepel is opened on Fridays, Saturdays and Sundays.